Northeast Texas Habitat for Humanity Build Day
October 5th – November 9th @ 8:00 AM – 12:00 PM
619 Texas Street
To sign up visit: www.eventbrite.com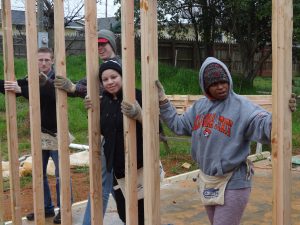 Calling All Volunteers!
Help us make a difference! No experience is necessary, just the willingness to lend an extra hand. Partner with Northeast Texas Habitat for Humanity and local volunteers as we build Strength, Stability and Self-reliance through affordable housing!
You too can get involved with helping a family in your community take the first steps to a better future! Can't make it to the build site??? Donate here: http://netxhabitat.org/give/
Below is a tentative calendar for what we will be doing each Saturday.
Location/ Time
Saturdays at 619 Texas Street.
10/02/2019 – 11/9/2019 8am-12pm.
Saturday volunteers: 10/5/2019
prime walls and ceilings
Saturday volunteers: 10/12/2019
1st Coat of paint walls and ceilings
Saturday volunteers: 10/19/2019
putty and caulk trimwork
scrape and clean concrete
Saturday volunteers: 10/26/2019
2nd coat paint
Saturday volunteers: 11/2/2019
cleaning
yardwork
touch-up painting
Saturday volunteers: 11/9/2019
finish yardwork
exterior paint touch up