Mail
Please make your check payable to Northeast Texas Habitat for Humanity and mail it to: Northeast Texas Habitat for Humanity, Inc. PO Box 2551 Longview TX, 75606
Online
If you would like to make an online gift donation please fill out our easy online donation form.   Make a Donation
Phone
To make a donation via telephone please call our office and one of our receptionists will be happy to help! (903)-236-0900 ext. 204
Honorariums and Memorials
As you plan gifts for family and friends this year, consider a gift that keeps on giving long after the wedding, anniversary, birthday, graduation, holiday or other special event or memorial. Upon receipt of your contribution, we will send an acknowledgment card indicating that you have made a gift to Northeast Texas Habitat for Humanity in honor of, or in memory of, the person you are celebrating. Be sure to include the name and address of the person who will receive the card. If you would like to make a gift in honor or in memory of someone by credit card go to the online donation form. For more information contact us at (903)-236-0900 ext. 204
In Kind Donations
Donations of new and gently used construction materials, furniture and home decor are sold in our ReStore with the proceeds supporting the work of the organization. Call 903-212-8453 to make a ReStore Donation. Donations of office supplies or professional services help us keep operational costs low and allow us to invest more into building and repairing homes. Call 903-236-0900 ext. 204 to make a donation of office supplies or professional services. Donations of new construction materials such as electrical, plumbing, concrete, and roofing materials and/or skilled labor keep construction costs down. These savings are then passed on to the homeowners. Call 903-236-0900 ext. 202 to receive a list of building materials and skilled labor services utilized build homes.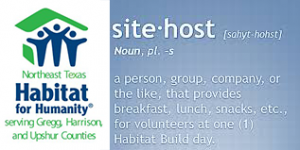 Donations of meals, snacks, sports drinks and bottled water for construction and ReStore volunteers, board and committee meetings and special events are needed year round. Call 903-236-0900 ext. 204 to provide a meal, snacks or drinks.

Below is a list of tools used for each build. If you, youth group, church group, school group or any other groups would like to help, but don't have the financial means, please consider a tool drive!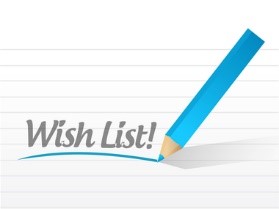 DeWalt 4.5 Gal compressor
16 oz Hi Viz fiberglass hammer
Hitachi 2-2 1/2" 15 gal. angle finish nailer
Kobalt retractable utility knife
Hitachi 21 deg. Round head nailer
Porter Gable 10" 55 Amp Table saw
Porter Gable 7 1/4, 15 amp circular saw
Stanley power-lock 30′ tape
Porter gable fixed router base
DeWalt 7 1/4" 18 tooth mid-range blade
DeWalt 12" 60 tooth Fine finish blade
Trouble Free 100 ft. PVC air hose
Swanson 8" speed squire
Cars for Homes
If you are thinking of donating a used car or other vehicle, Habitat for Humanity's Cars for Homes™ program is for you. There is no cost to you and you don't have to live in Longview to donate a car to benefit our affiliate. When you donate a car, truck, boat or RV to Cars for Homes™ you are helping your Northeast Texas Habitat for Humanity build homes in partnership with families within your community! Donations are quick and easy, and may be eligible for a tax deduction if you itemize (consult the IRS or your tax adviser for details). Cars for Homes™ accepts a majority of cars, trucks, boats, RVs and other vehicles with proper title and ownership information, and makes the arrangements to have your vehicle, keys and title picked up for processing. Net proceeds generated by donated vehicle sales are used by Northeast Texas Habitat for Humanity, Inc. to build homes in partnership with families in our community. With your help, more low income families can have a decent place to call home, and the hope of a better life. To donate your vehicle, call 1-877-277-HFHI (4344) or visit www.CarsForHomes.org.