Ebony Wilson's Story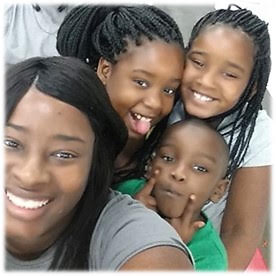 Before Ebony turned in her application for the Habitat Homeownership program she had gone to the meetings two times and never turned in the applications. But the first time she decided to turn it in she was approved. Being a full-time mother working two jobs and consistently renting never owning a home lead Ebony to the decision to contact Habitat. Some of the challenges Ebony faced as a first time home buyer including inadequate credit, low income and lack of a down payment.
Ebony lived in an older small two bedroom home with her four children. Which she said was not enough space for her and her children on her budget. In her home, her son's bed had to be located in the living room and her daughters shared a bed against a barricaded door. "The lack of living spaces and old wiring in the home makes the house a struggle to live in", she said. They have lived in these conditions for 2 ½ years. While living in this home Ebony felt isolated because she could not have family over. She told us that if Habitat could help her, her life would be different.
After being approved for the Habitat homeownership program she has experienced many benefits. Ebony was working two jobs from 10 pm to 8 am and would work her hours for Habitat after her shifts. She said, "It is stressful but it has been good and the children are very excited." When she was having a hard time Cheryl and LaJuan were there to give her advice. She said she sees Habitat as family.
Of the many goals Ebony has for her families' future she believes habitat's help will make working on her credit, finishing college, owning her own business, and sending her children to college attainable. She has already seen an increase in her money from work and is working better hours. Since being accepted into the Habitat program the benefits for Ebony have been great. She told us that, "It has been a life changer!"
---
Eva LeGrada's Story

Eva was living in the house from her past marriage. There were holes in the floor, broken windows, and the roof was not good. She said, "there were holes everywhere the house was in bad shape, bad condition." She and her son lived in those conditions for 13 years. She said they were so scared and they didn't have anywhere else to go. During that time she experienced many consequences from living in an indecent home. At the time her son was 8 years old and he was getting sick from the home. Eva said they had a lot of issues living in a house with holes. There were high electric bills, the air conditioner was working but it was not staying in the house. Also, there were a lot of mice and bugs getting in the house.  She had no money to fix these problems. She said, "I didn't even have the money to have someone help me to repair this kind of stuff."
The first time Eva applied she did not qualify and the next year she was scared of trying. So she waited another year and in 2017 after applying again she was accepted. Eva knew she wanted to have a secure, safe and decent house to live in. Eva has been working part-time for an ESL program and then works her Habitat hours. She currently has 100 habitat hours left to go. She said, "Getting accepted is a blessing."
Since partnering with Habitat Eva is hopeful that soon she will be able to earn the money to go to college to get a certificate. Eva is so excited for her new home. She said, "I can't wait to live in my house because without Habitat I was not able to have a decent house." Eva will begin building her new home with Habitat on May 26th. It is going to be a two bedroom 1 ½ bath. "It is like my dream come true Eva said I can't wait to live in my new house."
---
Angelica Davis's Story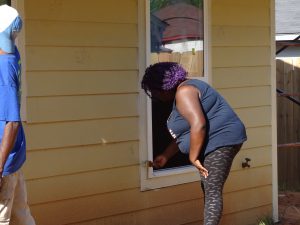 Angelica currently lives in a 2 bedroom 1 bathroom house with her 4 children and mother. She says, "It's hard to live there because there is not enough space." Before Angelica contacted Northeast Texas Habitat for Humanity she spoke to a current Habitat homeowner who told her about the program and later on she ran across a flyer. She said, "I applied when I got the information. I didn't think I would get accepted, but I did!"
The reason Angelica reached out to Habitat was because she is a single parent and has to support herself and her children without any help from their dads. When asked about the problems she and her family were facing Angelica stated, "The main problem was not having enough space for my 4 children and I to grow. Because we are such a large family the rent and cost of living is high." Also, she worries about the environment around them. The house they rent is located on a busy road.  Angelica told us, "there is a lot of violence, police, paramedics, and it just doesn't seem safe." Angelica has lived in this house for the past 4 years dealing with crowded spaces and not being able to allow her kids to play outside. Angelica said, "I wanted them to have a fenced in yard. They need their own space to be able to grow as individuals in their own creative ways."
We asked Angelica how her life would be different if Habitat helped her. She said, "If Habitat can help bless me with assistance with a decent and affordable housing for my big family my life will be different because I would have a place for my family to be independent." Since being a part of the Northeast Texas Habitat for Humanity program Angelica told us that she has benefited by becoming more responsible. The program has prepared her for home-ownership. She said she now understands the value of a home since building a home from the ground up. Angelica said, "All around Habitat has helped me grow as a person."  "(Habitat is) the best thing that has happened in my life." So far Angelica has logged 200 of her hours. She needs 150 more to complete the whole program.
---
Mrs. Sharon Pickett's Story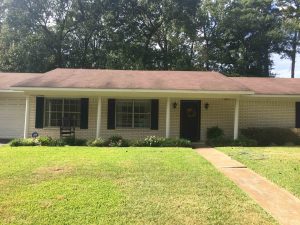 Mrs. Sharon Pickett had water coming into her home for a while. It's been flooding for 4 years and her insurance company was unable to help because she could not prove where the water was coming from. Nico, our construction manager was able to detect the source of the water was from the roof.
Mrs. Sharon Pickett is 78 years old and has been living in Longview for over 40 years. Her husband of 42 years, passed away 17 years ago and through the years things with the house changed. Due to a limited income and being on social security, Mrs. Pickett tried to handle the problem on her own. She said, "I had the carpet and the pad removed due to mold." She tried to keep water from going all over the place. She tried using sandbags and store-bought items. She was unable to figure out how the water was getting in. Mrs. Pickett stayed in a constant state of worry (her words, and confirmed by the daughter – in- law) when it rain because she had to shop vac the entering water. We asked her how she heard about Habitat. She said a lawyer for the elderly mention Habitat to her and her daughter helped her with applying. I never thought I would qualify because I already have a place to live,"' she said.
Mrs. Pickett said she is so thrilled about her new roof, it is an architect roof, she said. I never dreamed I'd get one. It's wonderful! She wanted to make sure Nico and Cheryl got a big thanks. They were so courteous and kind. Also, she wanted to thank Gerald, on Pine Tree road for the excellent job he did. She said, "I got to pick out the colors and do the whole thing, and I thought that was very special." I got a whole roof for $400. I couldn't ask for anyone to do a better job.
---
 Mr. Duraso's Story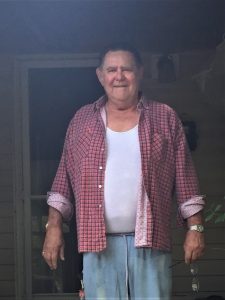 Mr. Duraso, retired from the U.S. Air Force after 13 years of distinguished service.  When we met him, he had not had heating and cooling capabilities in his home for nine years. In fact, he had called repair companies on previous occasions and was given estimates of several thousands of dollars. A cost he simply could not afford.  The Northeast Habitat for Humanity Veteran repair program came in and discovered that not only could the unit be repaired, but the cost of the repair was only $200.00!  This easy fix gave him the opportunity to also have safety issues addressed.  The leaking roof was replaced, damaged floors repaired and the bathroom was remodeled.  His shower was unusable, and he could no longer navigate in and out of his garden tub.  Mr. Duraso' home is now secure from rain, a comfortable temperature year-round, he doesn't worry about falling through the floor and he has a usable shower.
---
Mr. Wall's Story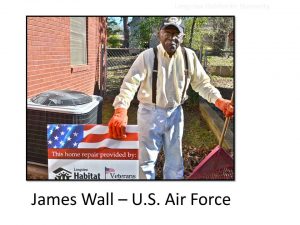 WWII Veteran James Wall is lovingly described as a "work-a-holic" by his wife who told us, "I don't even bother asking him to sit down anymore."  James has lived quite the life.  After returning from the war, he worked as a pastor, became the first African-American principal in Carthage, and found time to serve as County Commissioner.
Today, Mr. Wall may be retired but he is definitely not sitting still! He is focused on maintaining his home and yard as well as he possibly can.  That takes a lot of work.
But keeping up that pace, or just living in East Texas for that matter, requires air conditioning and occasional heat.  A few years ago, the Wall's HVAC unit began to fail.  Mr. and Mrs. Wall spent quite a bit of time, effort and money – around $900 per year – trying to keep the unit running.  Eventually, though, it failed.  An AC company quoted them a range of from $8,000 to $15,000 to replace their unit.
Paying this exorbitant amount for a new HVAC unit was not possible (or advisable) for the Wall's.  But having clean, comfortable air to breathe and live in was a necessity.  Through the Veterans Critical Home Repair and Modification program, the Wall's received a new unit and the attending installation adjustments to their home.  The cost to the program was $5,000.  After a few years of troubling living conditions, the Wall's are no longer stretching the confines of their budget, comfort, health and safety standards in order to live in their home.
NETHFH staff stopped by the Wall's home to take a photo of the completed project. There was only a quick second to snap a photo of James, rake in hand before he got back to work.
---
Billy's Story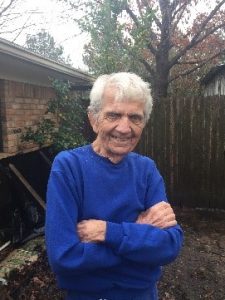 Billy, a U.S. Army veteran had water seeping into his home from ground level for a very long time.  The water weakened the wall and rotted the drywall.  The repair team discovered that a leak in the French drain created the problem.  The drain was repaired, the water flow diverted away from home, and we repaired the damaged walls.
---
Tiffany's Story
Tiffany heard about Habitat from a friend who worked for Habitat. She called and was put on the waiting list. We asked Tiffany to tell us about her current living situation. She shared with us that she struggles with finances every month. She barely makes any money and it is hard to pay her bills, also the landlord is reluctant to fix problems at the trailer she lives in. She has two kids a daughter who is 16 and a son who is 10. She said, because they are older it makes it hard to keep them in the same bedroom, so a three bedroom house would be ideal.
Tiffany is a single parent, not by choice, she says. She has faced many challenges trying to solve her housing problems. She told us she is doing her best to stay in the area for her children's safety and future. Her daughter is entering her high school year and cry's because she wants to stay at her school and graduate from high school without moving to a new location. Her daughter even started working to help out the family.
Tiffany said, "I've sacrificed and worked really hard to graduate with an Associates and a Bachelor's degree." Tiffany lived in shelters and low-income housing all while working and going to school and even though she has these degrees she said, "I find it almost impossible to find a job that pays well."
Tiffany has worked many jobs. She has been a hospital unit clerk, a CNA, and a rehab tech which paid really good money but she was not able to keep because of her ex-husband. She currently works at Goodwill where she has been an employee for 5 years. She says, "It doesn't pay well but it is safe from her ex-husband. Tiffany told us she deals with multiple injuries and PTSD caused by past situations. She said her problems of living in bad housing began when she was 17. Her mother moved away and Tiffany was left by herself raising her sister and her own daughter.
Tiffany believes that if NETHFH can help her achieve her family's goal of homeownership she will feel like the struggle was worth it and her kids can be stable and happy. She said, "I will have less stress equaling less health problems. I will have more money to provide more of the things my family needs, like my daughter's braces."
With the help of building a new home through NETHFH's homeownership program, Tiffany sees her dream of finally having a home for her family come true. Through owning a new home with an affordable mortgage she hopes to be able to get her Master's degree and continue her journey to success. She told us, "I want my kids to be proud to walk in my footsteps. I hope to pass the home down to my kids. I want to know my kids have a roof over them always."
Tiffany has finished her habitat hours. She did so in 3 months after her back surgery. She even helps her friend Ebony (NETHFH Homeowner) clean and work on her house when she gets home from work. Even after all she has been through she remains strong and focused. She ended our conversation with a quote she holds dear. "The strength of a mother is unmeasurable, through God and prayer."
---
Kathy's Story
Kathy is a 50-something year old, native of Longview. She spent much of her adult life working in a local plant.  Approximately ten years ago she became medically disabled.  As her illness advanced, the physical disability made walking very difficult.  In fact, she was unable to leave her home without physical assistance due to the stairs at the front and back doors.  She could not step up and into her standard bathtub at all.  Because she lives alone, this made Kathy a virtual prisoner in her own home.
Through the repair program, NETHFH contracted with a professional subcontractor and supervised the installation of a walk-in shower, grab bars and raised toilet in her only bathroom. For the first time in several years, Kathy was able to take a full shower, rather than simply "washing up" at the sink each day.
A few weeks later a group of volunteers led by the NETHFH construction manager arrived and built a ramp at the entrance to her home. When the work was completed and using a walker, she made her way to the bottom of the ramp, kicked off her shoes and stepped onto the lawn. With tears streaming down her face, she said. "I have not felt the grass beneath my feet in five years. Thank you."  This program made her entire home accessible once again, provided a usable bathroom and shower, improved her safety by providing an accessible way in and out of the home and gave back independence that had been lost.
---
Jeff's Story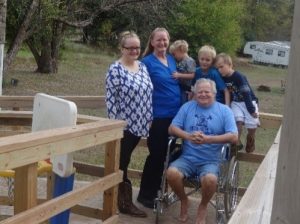 Jeff, an Airforce veteran, came to the repair program in need of modifications to fully use his home.  A long-term illness had progressed, and now he used a wheelchair full time.  "It was rough, very rough to not have access to my home; I couldn't even go out my door unassisted. But we couldn't do the work or afford to have it all done. I was out of options. " NETHFH built ramps and widened all of the doorways to accommodate the chair. The team also made roof and floor repairs and leveled the home. "It was great to have someone really do something to help.  The guys doing the work were great! We contributed just 8% of the $14,000 cost. " The best thing about partnering with Habitat according to Jeff, "I can stay in my home, which is close to my wife's job and near our kids and grandchildren."
---
Claudia's Story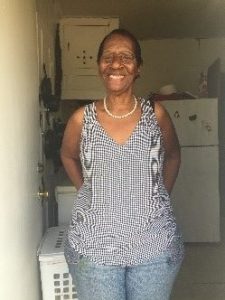 Claudia had a water issue. Leaks in her roof destroyed portions of the roof, ceiling and flooring. The water also caused electrical damage and several of the light fixtures were inoperable. Habitat replaced the roof, repaired the floor and had an electrician repair the electrical and replace the fixtures. During our time at her home, we discovered that her bathroom and kitchen plumbing were also clogged and leaking. Those repairs were completed the following week.
---
Dora's Story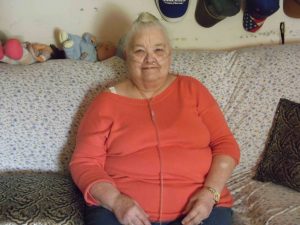 When we met Dora, her roof had been leaking for some time.  Though they tried, she and her husband were unable to repair it and could not afford to hire a roofing company.  The Habitat Critical Repair program replaced her roof.  Dora's family has been warm and dry during the recent rains.
Alene's Story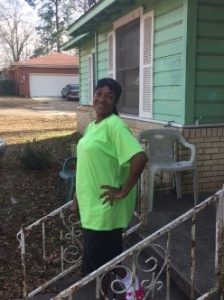 Alene, a person with disabilities, had an inoperable bathroom. She had to use a laundromat or rely on the generosity of friends to wash her clothing because the washer line was clogged, too. The bathroom and all of the plumbing in the house were repaired by a plumber.
Carolyn's Story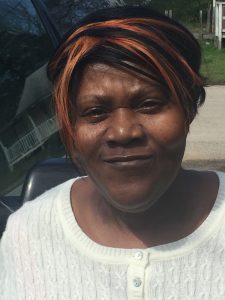 Carolyn's floors were severely damaged. Not only was it a safety hazard, but parts of the home were simply inaccessible. The front door would not close. She wedged a chair against the door to secure it at night. The critical repair team repaired the flooring, replaced the door and repaired a plumbing leak beneath the bathtub to prevent further water damage in her home.
Craig's Story
Craig, U.S. Army. 1989-1993: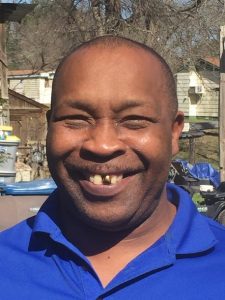 Craig, an Army veteran, had been unemployed for eight months.   With the family's income reduced to one salary, caring for his disabled son and the home became very difficult.  A faulty roof and missing siding on the home resulted in very high utility bills which further strained the family's finances.  The critical repair team replaced the siding and the roof.  The utility costs immediately were reduced, and the financial burden eased.  We discovered during our time with Craig that he was a skilled remodeler.  We hired him.  Today, he works as a subcontractor for Habitat performing critical repairs.    Craig said of his Habitat journey, "We have more money available now because of the lower utility bills and feel much safer in our home because the roof doesn't leak. It is a true honor to now be on the other end helping families like mine."
Gary's Story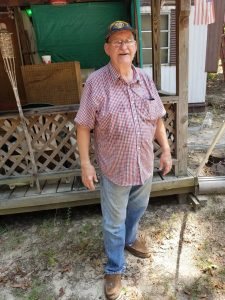 72-year-old Gary from Gilmer, TX, served in the US army in Europe. Following his military service, he began a career in security and retired as the assistant director of security for the Longview Mall in 2012 to care for his ailing sister. Gary has also experienced a number of medical issues since that time requiring hospitalizations and surgeries.  As a result of these difficulties, he was unable financially or physically to maintain his home.  Gary told us he was self-conscious about the condition of his home and it affected his emotional health.  "I (developed) low self-esteem because I couldn't do the things that needed to be done."  He searched the internet for help for two years without success.
Then Gary found Habitat's Veteran Repair program. Habitat replaced his roof and sub flooring, repaired electrical and plumbing hazards, replaced the kitchen cabinets and sink, replaced several windows, weatherized the house, and rebuilt the back porch to allow safe entry and exit. Gary told us that he had lived with these health and safety hazards in his home since 2012.
We ask Gary what benefits he's experienced since completing the repairs. Gary said, "My life improvement is about 70%. The house is safer. It is dry, comfortable and the floors aren't soggy." Gary has peace of mind as he moves about his home and enjoys fewer health issues due to the cleaner air quality of the home.
Mrs. Johnson's Story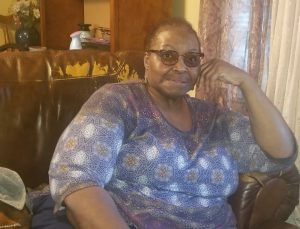 Mrs. Johnson, a disabled widow of a Vietnam Veteran, had a damaged roof that resulted in leaks. Through Habitat's Veteran Critical Repair Program, she was able to get a new roof. However, a leaky roof wasn't Mrs. Johnson only complication; her add-on laundry room was not completed properly by the contractor she hired several years previous, leading to an abundance of moisture and mildew damage and openings to the exterior of the home. On several occasions, a snake got into her home through that room!   Snakes are one of her biggest fears.  The sheetrock, insulation, & exterior walls were all replaced, ridding the home of mildew, and ending access to snakes and other crawly things.
"I was so blessed good people came out to help me & to do the work," Mrs. Johnson gushed. "I am grateful to be able to relax and just enjoy the rain when it comes."
Jessie's Story
Jessie served in the Army during the Vietnam Conflict, where she received the National Defense Service Medal. She works daily to pay for the general upkeep and the numerous repairs needed to keep her home safe. But it isn't enough. Her home had become dangerous.
Almost every room leaked. The pier & beam foundation began to sag & bow, leaving the floors uneven. The Habitat repair team with support from the  Home Depot Foundation Repair Corp replaced the roof, repaired the floors and stabilized the foundation.
Jessie said it's a relief to let go of the worry about her daughter and granddaughter's safety at home.  "I am grateful for organizations like Habitat for Humanity that are willing to help those who have problems and can't always afford all of the work required to fix them."
Val Story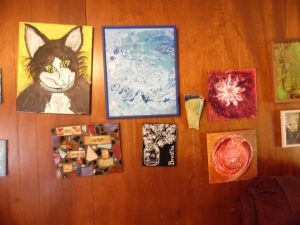 Val is a painter and lives in the home she inherited from her father.  Recent changes in her health have resulted in daily mobility difficulties. This made even routine bathroom trips "hard and scary." The roof leaked, too, and damaged the walls and electrical system.  Habitat replaced the roof, repaired the walls and remodeled the bathroom and electrical. "My general health and well-being have improved, not having to worry about mildew and leaks in my ceiling," she said.  Now Val can live securely and create the art she loves for many years.
The Gregory's Story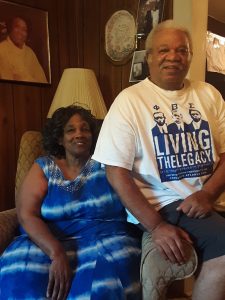 The Gregory's have lived in their Marshall home for the past several years.  The home, however, had been in the family for several generations.  Choosing a life of serving in the US Army, Kenneth spent nearly 3 decades in active and reserve duty.  After the passing of his brother who bequeathed the house to him, he and his wife decided it was time to return home.  They quickly discerned that the upkeep of the home was not where it should have been.  "It rained more inside the house than outside", claimed Mrs. Gregory.  As it turns out, this was just the beginning of the problems.  After a Habitat inspection, issues were found with the stabilization of the home, gas piping, hot water heater, and bathroom drainage.  All of these issues were rectified to create a safe and sustainable environment for the family.  When asked what it meant to them the reply was joyous, "The work that Habitat has provided to us has made the hazards we live with safer.  Without the help of Habitat, we could never have afforded to do this on our fixed income."
Mr. Skinner's Story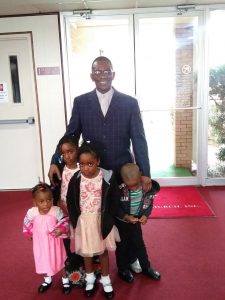 Mr. Skinner, who adopted 4 of his Grandchildren, recently told us, "If I could thank every donor personally, I would do it today!" The condition of his home, in his opinion, wasn't safe for four young children. But, the cost of the repair was simply beyond his current ability to meet.   He partnered with Habitat to have rotted flooring, and a leaking roof replaced.  Then, new doors were installed to keep the children safe and secure.  "Not having the means to do anything to fix the house by myself was the worst.  It feels great to go into a house that is cool in the summer, warm in the winter. And most of all, it is safe for my grandchildren."
Ms. Robinson's Story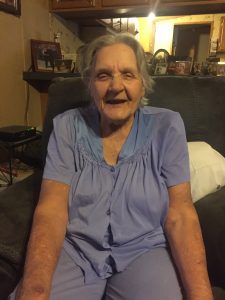 Ms. Robinson lived in her White Oak home, where she raised two children, for 21 years.  Recently, life at home became more difficult after an illness progressed.  Even the simplest of tasks, like visits to the bathroom, became debilitating and unsafe.  Reaching out to Habitat for Humanity, Ms. Robinson received a life-altering bathroom renovation that included accessible fixtures.  "It is so much easier for me to get in and out of the shower without having to worry about losing my balance and falling".  Habitat replaced deteriorated carpet in her home so that she can safely move about with her walker.  When asked about her Habitat repair experience she proclaimed, "This is real good!  It's the best program I have ever heard of and it's really worth it."
Eric's Story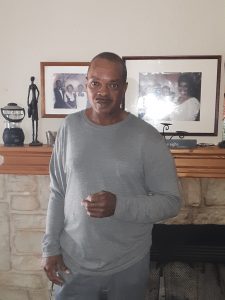 Meet Eric from Gladewater
"There are no words to describe how remarkable Habitat is. It leaves me speechless.  What the donors do changes lives,"  is what Eric said about Habitat's critical repair program.
Eric and Rose were happily married for 34 years before she succumbed to cancer in 2016. Eric was diagnosed with Leukemia in 2018. Shortly after, his HVAC unit and water heater broke.  "I knew I had to keep God first, and all will be alright," he says. He was forced to heat water for bathing and leave doors and windows open in the summer heat.  After applying for the Critical Repair Program, he received a new central HVAC and an operational water heater.
Jessie's Story
At 77 yrs. old, Jessie was forced to return to work after the loss of her husband, a US Army veteran. She also had difficulty maintaining their home alone. The roof was leaking and there were several areas where the floor had rotted. Her greatest worry was that she would fall and be hurt and alone in her home without help. The Habitat Veteran Repair program was able to help. The roof was replaced and the floors repaired. The team also made the bathroom safer with grab bars and a raised toilet. Her plumbing needed some attention and before they were done her kitchen sink and bathtub were operable again. Jessie is safer and more relaxed at home now. 
Mary's Story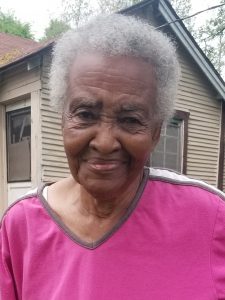 For the first time in 40 years, Mary can turn on the tap and have a hot bath. Mary moved into her Longview home in 1979. Unbeknownst to her, she would not have any hot water, because it required plumbing for propane usage. She learned to live without that simple convenience and heated water on her electric stove when necessary. A number of years later she had an electrical malfunction and discovered that the wiring was too old to repair. The home would have to be re-wired. The cost was impossible for Mary to afford. "I was always scared that the house would catch fire because of the bad wiring and I'd be trapped and burned alive", she shared with us. Mary doesn't have to fear a fire caused by bad wiring any longer. Earlier this year she was approved for the Habitat critical repair program. The home was re-wired, lighting fixtures and ceiling fans were installed. The house was plumbed and a new water heater installed and now she enjoys a safe, light-filled home and hot water every day
Sharon's Story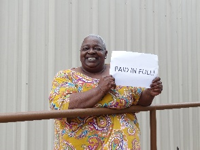 Sharon's home is paid in Full! "Hang in there no matter what!  Paying off your home is truly worth it.  Don't get discouraged, keep the faith because there is nothing like the feeling of fully owning your home."  That is Sharon's advice to her fellow Habitat homeowners. When we asked about her Habitat experience, she said, "I thank God for Habitat and this opportunity.   When I first applied for the program, my application was denied because of high debt.  But Habitat, encouraged me to keep going.  I paid off all my debts and the next year I was accepted into the program. "Sharon is continuing her Habitat journey as a servant leader on the NE Texas Habitat Board of Directors beginning in February 2020.
Mrs. Templeton's Story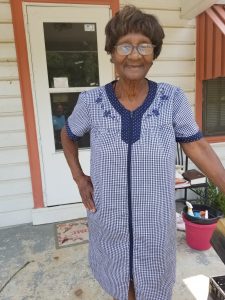 "I am so thankful that Habitat offers this program in my area. It is such a blessing to be cool." That is what Ms. Templeton told us when we called to check on her. Living without air conditioning in your home in Texas is a health hazard and very uncomfortable. But that is exactly what Ms. Templeton experienced for over year. The 90-year old Longview native's home is not equipped for centralized heat and air. Her one window unit malfunctioned and she tried in vain to save money to purchase another unit. One sweltering year later, she was still without a way to cool her home. She had resolved that she would have to face another long, hot summer at home. Then, she heard about the Beat the Heat program. The next day, Ms. Templeton was cooler and healthier in her home with a unit provided by the Habitat Beat the Heat program
Mrs. Noreen's Story
"It is a glorious feeling to pay off my home.  I never thought that I could be a homeowner. What a blessing!" Noreen paid off her 20-year mortgage in 16 years!  When Noreen joined the Habitat family, she was raising four grandchildren. Later, she earned her degree and teaches at Asbury House in Longview. The kids are now adults. One serves in the military, one attends Weatherford College, the third followed in her grandmother's footsteps into the education field. The youngest works in retail. Noreen says that her Habitat home helped to create the financial and environmental stability that ensured her family's future success.
Lorene's Story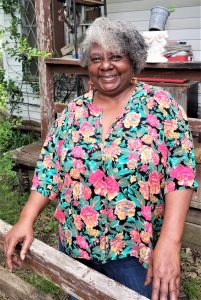 Lorene's home was dangerous for her. Water leaks resulted in rotted flooring and loose fixtures throughout the bathroom. Electrical work conducted by another contractor had left large areas of her home in the dark, forcing her to use extension cords across the floors. Our team discovered that the electrical panel and circuits were too small, and the few operational circuits were continuously overloaded and malfunctioned. The critical repair team remodeled Lorene's bathroom to make it safe and accessible. An electrician was brought in to upgrade the panel and circuits and replace bad outlets and switches and then added lighting fixtures, ceiling fans, and smoke detectors. Lorene's home is now her sanctuary, and she and her family can be assured that the trip and fire hazards have been removed.
Brooks' Family Story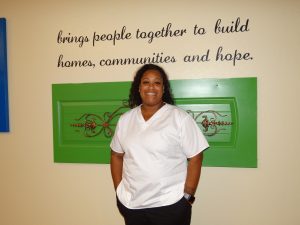 Mrs. Brooks and her sons, Gabriel, Kendrick, and Kentrell, are raising the walls on their home next week!   Owning a home is essential to Mrs. Brooks because she has experienced and overcame homelessness and the cascading effects of poverty housing circumstances
At one time, Mrs. Brooks could not imagine a life spent in a stable home. As a child, she experienced numerous periods of separation from her mother, who suffered from mental health difficulties throughout her childhood.   For a brief period, as an adult, she had to depend on others to provide a place for her family to stay until she could provide for them. Determined to give her boys a loving and stable home, she finally secured a one-bedroom duplex for her family of four.
She then attained her CNA certification. She discovered a deep love for elderly persons and, today thrives in her 15-year career serving the needs of seniors in nursing facilities.  Her dream is to one day own an elderly transportation company.   She also owns a t-shirt printing business.
Mrs. Brooks loves her church and community and volunteers often. She stays active in her kid's school activities and assures that the family spends at least one evening at home together each week, usually playing games.
Ronald's Story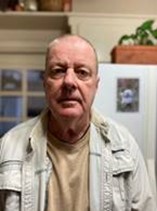 US Army Veteran, Ronald Pliler, served our country from 1965-1971. After his service, he returned to Longview, where he worked in office equipment sales and repair.
In recent years, Mr. Pliler's home has fallen into disrepair due to an illness affecting his mobility, hand, and foot agility, preventing him from conducting routine maintenance.
The NE Texas Habitat Veteran program stepped in to give Ronald a hand up with the repairs. About his Habitat experience, Ronald shared, "Habitat went beyond the call of duty for me.  Everyone was extremely polite and did professional quality work.  I am grateful for this program and the Habitat people."
It is critical to Habitat that Ronald has safe access throughout the home he loves.   As a result, the home's foundation was stabilized, new flooring was installed, and his bath was remodeled with a walk-in shower and safety bars.  Habitat also replaced the malfunctioning exterior doors. 
N.E. Texas Habitat serves veterans in Gregg, Harrison, and Upshur counties. Since 2015, N.E. Texas Habitat has worked with more than 125 veterans to create healthier, safer homes. To support the Veteran Home Repair program or get more info, contact us at info@netxhabitat.org or 903-236-0900 ext 201.