FOR IMMEDIATE RELEASE
GAI BENNETT JOINS EXECUTIVE TEAM AT
NORTHEAST TEXAS HABITAT FOR HUMANITY
LONGVIEW, TEXAS – Gai Bennett has joined Northeast Texas Habitat for Humanity Inc. as director of development. In this role, she is responsible for oversight and planning of all resource development, media, and public relations activities.
"I am so excited to join the Habitat family," Bennett said. "I've long been aware of Habitat's mission, having volunteered at various home build days, and I know the real difference that it makes in the lives of families that need decent places to live. Now I'm very happy to be a real part of this important work."
A Longview native, Bennett has extensive experience in event management, sponsorship sales, and fundraising. Previously, she was an events manager at M. Roberts Media for the past four years, producing and managing events for the Longview-based company's six newspapers. Earlier, she was a business manager for 16 years at Cheyenne Electric in Longview.
Bennett has long been active in her community. She is serving her 12th year on the board of directors of the Great Texas Balloon Race, is a past president and board member of the Rotary Club of Longview, and has served on the boards of local nonprofits, including Newgate Mission and Gregg County Historical Museum.
Bennett is a graduate of Longview High School, Kilgore College, and attended LeTourneau University. She is married and has two dogs. 
"Gai is well known in our community as a wise leader, creating highly successful events and developing strong relationships," said LaJuan Gordon, CEO of Northeast Texas Habitat. "We are delighted to have her bring that professionalism, dedication, and wisdom to our mission."
In 2019, Northeast Texas Habitat completed 133 services projects in its three-county service area encompassing Gregg, Harrison, and Upshur counties. So far, in 2020, it has completed 46 projects, and 14 more are in progress. Northeast Texas Habitat for Humanity Inc. is a nonprofit housing ministry dedicated to eradicating the long-term effects of poverty housing. It offers programs for homeownership, health and safety repairs and operates a ReStore in Longview. To learn more, to volunteer or to donate, visit www.netxhabitat.org  or call 903-236-0900, ext. 204.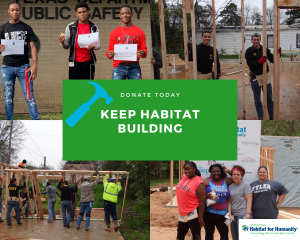 How do you shelter in place when home is not the safest place to be? During COVID- 19, we've been instructed to shelter at home because our homes are a safe space. For hundreds of our neighbors, home isn't safe at all—this is why NE Texas Habitat's work is crucial during this crisis.
If you are blessed to have a safe home to shelter in today, please donate to NE Texas Habitat to help your neighbor, shelter safely, too. 
More than 500 families that once were in overcrowded, unaffordable, or hazardous homes are in safe homes because they were recipients of Habitat building or repair services. But, today, 110 families are still on our waiting list for these services. Fourteen exterior health and safety repairs are in progress, for the elderly and persons with disabilities right now.
For these families, home doesn't mean safety or comfort. It is overcrowding, health hazards, or housing costs that are so expensive that necessities like quality food, health care, and home maintenance are beyond their reach. Every gift of every size keeps Habitat building and repairing home hazards. Please give $25, $50, $100, or what you can, today, and Habitat will continue helping our neighbors. 
Stories of Hope and Dignity with Habitat
NE Texas Habitat for Humanity Enacts Prevention Protocol Regarding COVID-19
As each day brings new reports of the spread and impact of the COVID 19 virus, we want to keep you informed about the actions NE Texas Habitat is taking in response to this rapidly evolving situation.  The health and safety of our employees, volunteers, customers, partners, and clients are of the utmost priority. Today's actions are driven by our commitment to provide a safe work environment at all times, whether in our facilities or the field. 
NE Texas Habitat for Humanity has voluntarily enacted the following measures until April 16, 2020.
·       Habitat offices and ReStore will maintain regular business hours. Please call for an appointment before visiting our Administrative offices.
·       Hand sanitizer and disinfecting wipes are available at the entries of our facilities for visitor use.
·       In-home client visits, inspections, interviews, and repairs are suspended.
·       All volunteer activities are suspended.
·       Homeowner college classroom instruction is canceled.
·       Group meetings will be held by conference call or rescheduled.
·       All business travel is canceled.
We will continue to monitor daily and to update our response as appropriate until the virus is contained, and these measures are no longer necessary.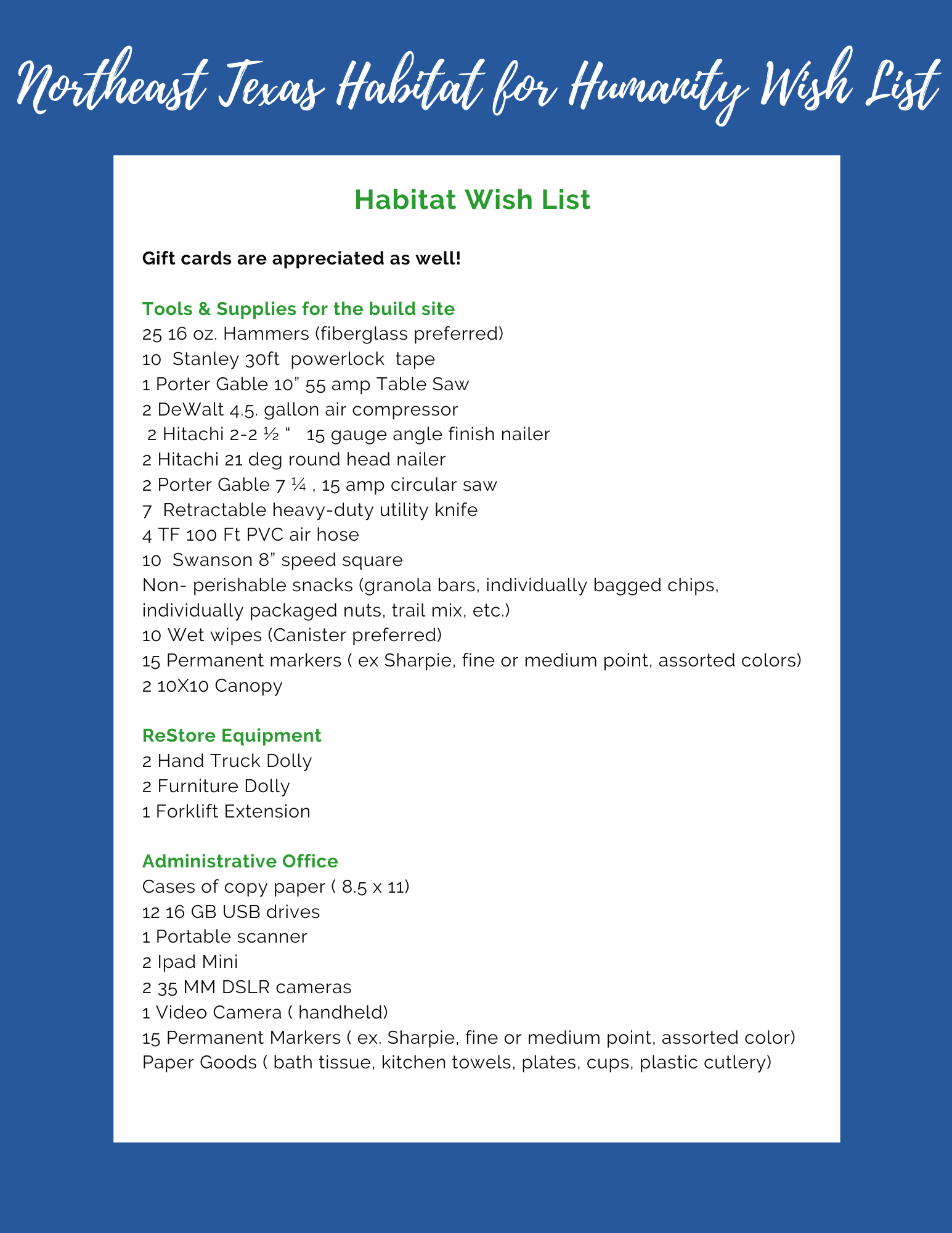 Love to shop online? View our Amazon wish list. Prefer to purchase locally? Please deliver to: 
Northeast Texas Habitat
905 McCann Rd,
Longview, TX 75601
Northeast Texas Habitat:
Call Us: 903-236-0900